I was out a couple weeks ago or so with some friends, we were chilling at the bar, in a good mood, ordering shots, drinks, dancing like it was going outta style. I'm standing by the bar with a friend of mine, and she spots these 2 guys who spot us and tells me: N. Look at this, these 2 guys are going to come up to us. I turned to them, they were good looking, had some style so, I was like, ok this can be interesting! Finally, low and behold, the dudes walk up to us...One of the guys comes up to me, let's call him Bob, and Bob says to me Hey how are you? I answer, good thanks, how are you? good he answers me and then stares blankly at me...I look back and I try to make small talk... those really stupid questions that I dislike so much : "Come here often?", "What do you do in life?", and he answers me without really asking in return. Bob then moves on to my friend, which relieves me immensely because boy this guy was clueless when it came to picking up women, he had nothing to say. Next off, his friend Karl then started talking to me...same issue. CLUELESS. As I tried to make some conversation, I gave up, and went back to see my friends. He even came back to see me, put his arm around my waist, and asked, hey are you having fun? HEY ARE YOU HAVING FUN??? Come on. COME ON. He was cute, but so boring. And this got me thinking... the older you get, the more game you need. No game, no girl.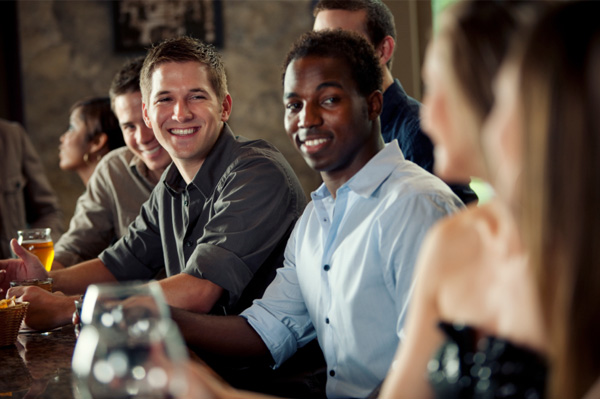 When we were young and clubbing or at bars, your good looks could probably get you a few drinks, a few stupid question answering, a good night kiss, and maybe more. Our standards were much lower, and we would go out a bunch of girls together to pick up, to have a good time, and the outcome of these evenings would usually be unknown. Now, as we get older, we strive more on personality (I'm talking about women want...) than looks. We want a guy that has wit, that is funny and doesn't ask us about what we do in life, but asks us about our hobbies, music, travel, or that can start up a conversation based on an ugly sweater, weird tasting drink or super drunk guy in the corner. Basically, we are looking for men with game. If you don't have game, how do you develop it? Damn. That I really don't know how to answer you, find one of your friends that does have game and ask him to give you tricks. I don't know how to suddenly become more witty, or more interesting. I wonder if it's either something you have or don't. Maybe picking up in bars just isn't right for you and that you need a different type of setting, whether it's house parties, friends of friends or something like eHarmony.
I looked at myself too to wonder if I was maybe too picky, and that I was the one actually looking for that type of person, but the girls I was with seemed to agree with me. When in bars, one must be a little more than just there. This charm is a man's saving grace, because he can probably get the most good looking girl in the club or bar if he has game, if he can use his wit to win her over, even if he isn't that good looking, he's in business. Of course, in order to be witty and funny, one must be confident. And as we all know, that's the solution to all. I do congratulate those guys for coming up to us and trying to make conversation, it's never easy to approach women, but you need to do it in style.
I know it's shitty this whole game thing, if only we were more simple. But if a man reads this, and he does have game, and he wants to share his tricks. I love to hear it. It can probably help some other men out there... (you can be anonymous!)
Until then, hope you had a great Christmas or Hanukkah, and Happy New Year!!
N.